HydraFacial Syndeo Skin Treatment
Advanced HydraFacial Syndeo Skin Treatment
Meg & Co. is proud to now offer HydraFacial 3-stage skin treatments at our Falmouth, ME location. This revolutionary facial system uses mechanical hydradermabrasion in conjunction with nutrient-rich serums to cleanse, exfoliate, and nourish your skin.  It will leave you with a rosy glow that has you feeling radiant in your own skin.  
More about HydraFacial
In addition to being a powerful aesthetic treatment for a wide range of concerns, HydraFacial are relaxing, like a traditional facial.  The patented vortex action of the HydraFacial tip provides a joint exfoliation and suction effect that feels like a gentle massage.  Thanks to the automated nature of the treatment, you'll enjoy the same consistent mild pressure not only throughout your treatment but during every subsequent treatment.

Schedule your HydraFacial with Katie at Meg & Co. today!
What Is a HydraFacial?
If you take your skincare seriously, you've already heard about HydraFacial treatments.  Though we've all heard the term, fewer of us are directly familiar with the process.  Let's break down the treatment to dispel the mystery and clarify the powerful results.
Step One:

Cleanse


First, we'll focus on cleansing and softening your skin to loosen dead skin cells and prepare the way for the deep extraction of oils and impurities.

 

Step Two:

Extract


Using the unique painless-yet-powerful HydraFacial Syndeo suction action, we will remove loosened impurities and dead skin cells, unclogging and cleaning your pores.

Step Three:

Hydrate


In the last step of treatment, we'll saturate your freshly cleansed and extracted skin with one of four special deeply-moisturizing serums that include a special blend of peptides and antioxidants, depending on your main concerns.
About the Machine
Something that confuses some first-timers is the system itself.  While the deep-moisturizing serum is important, the machine behind the treatment is the star of the show! Sameer Bashey, a clinical instructor at the University of Southern California, describes the machine as a "medical-grade hydradermabrasion device that carries out a patented three-part regimen — cleansing, exfoliating, and then infusing skin with intensive serums."
In simple terms, this powerful device provides the means of delivering all three steps of the HydraFacial treatment process, including both gentle suction and deep infusion with hydrating serums!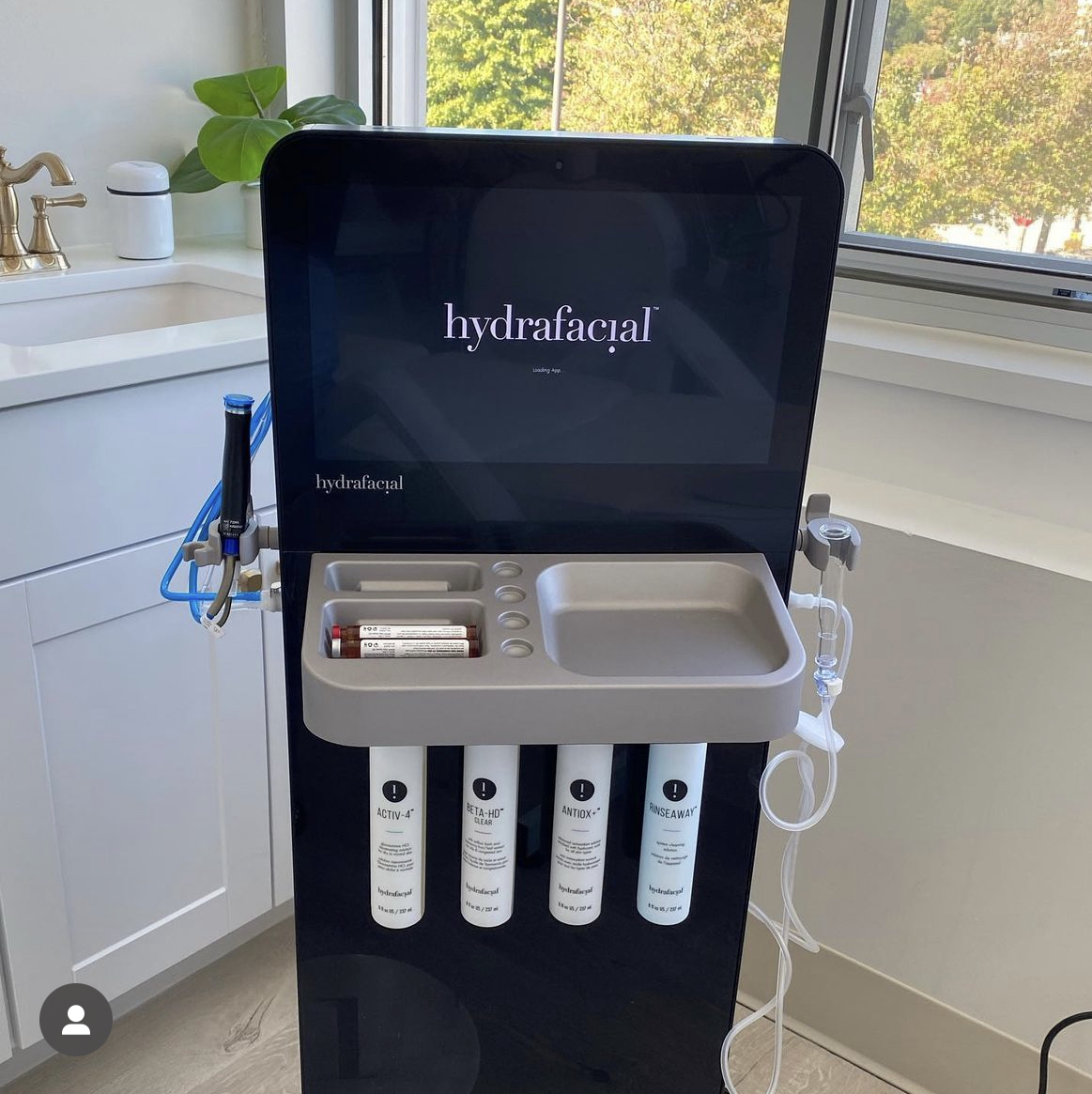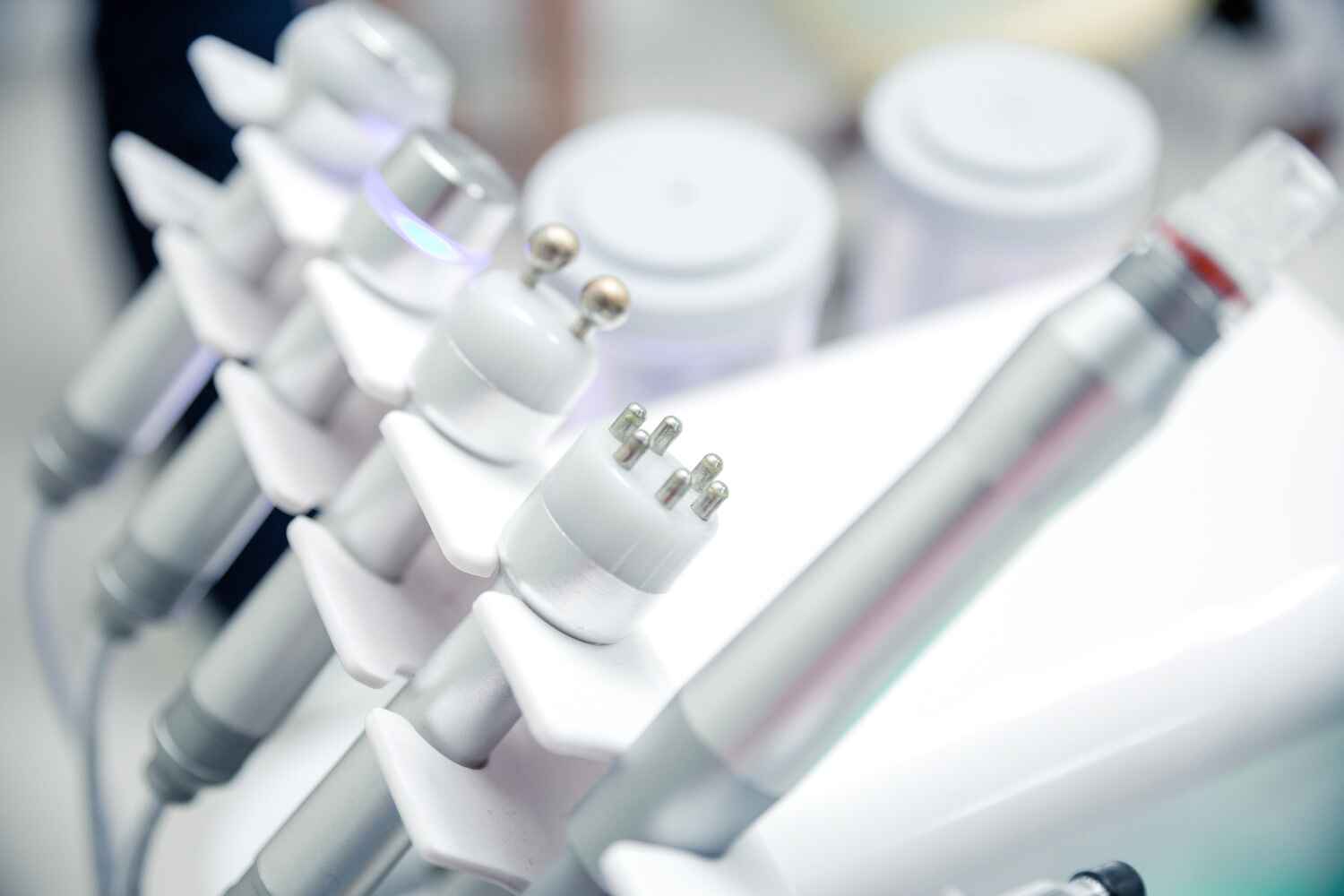 What Does a HydraFacial Do For You?
recommended for
Hydration


The name is not for nothing!

Hydra

tion is at the heart of

HydraFacial

.



Fine Lines and Wrinkles


Deep moisturization plumps up your skin, decreasing the appearance of wrinkles.



Elasticity and Firmness


HydraFacial improve blood flow and make your skin feel younger and invigorated.



Congestion and Acne


Clear pores are happy pores, and deep moisturization keeps skin from drying out as some other acne treatments can.



Dark spots


Enjoy more even, uniform skin with deep hydradermabrasion.



Pigmentation


Light hyperpigmentation can be significantly reduced with hydradermabrasion.



Pore size


The gentle dermabrasion from HydraFacial cause pores to respond with a tightening reflex.
Maximizing Results
With HydraFacial, timing is everything. For about 24 to 48 hours after treatment, your skin will positively glow, and you'll have the most noticeable results for about a week after treatment.  This makes HydraFacial the perfect treatment for the week of any big event. 

For the absolute best results, we suggest pairing this treatment with traditional dermaplaning, which you can book at a discount when paired with your HydraFacial.
HydraFacial Deluxe – $249
This 30-minute treatment includes either a lip or an eye treatment in addition to the HydraFacial Syndeo.
HydraFacial Platinum – $299
This 1-hour treatment includes a lip or eye treatment, lymphatic drainage, and an LED treatment in addition to the HydraFacial Syndeo.
Pair with Dermaplaning
Add dermaplaning for just $50 more and maximize your results!
How often should I get a HydraFacial?
HydraFacials are safe as often or as rarely as you would like.  Most of our clients like the results they get when they come in for a HydraFacial once a month.  To get the most out of your treatment, schedule treatment for a week or less before you have a big event coming up.  Turn heads at the next wedding, gala, fundraiser, or event you attend with a well-timed HydraFacial!
What is in HydraFacial serum?
There are actually several different HydraFacial serums available, formulated to focus on different areas of concern.  These serums are well-suited to dealing with specific conditions and needs such as rosacea, acne, aging skin, and dry or dehydrated skin.

The specific ingredients in these different formulations vary and are always being perfected with generational reformulations, so it's impractical to provide an exhaustive list of ingredients.  The active ingredients in all the different formulations of HydraFacial serums include a mixture of antioxidants and peptides that hydrate and nourish your skin.
What are the contraindications for HydraFacial?
The primary contraindications for HydraFacial are pregnancy and breastfeeding.  If you've used Accutane recently, this can also be a concern.  Older formulas for the serum included ingredients derived from shellfish, but this is no longer the case.  HydraFacial serums are now hypoallergenic.
How Much Does a HydraFacial Cost?
We offer HydraFacials at two price points.  HydraFacial Deluxe is $299 and includes a lip or eye treatment.  HydraFacial Platinum is $349 and includes a lip or eye treatment, lymphatic drainage, and an LED treatment.