What is A Carbon Laser Facial and What Does it Do?
The Carbon Laser Facial is a nearly miraculous aesthetic treatment that can make an incredible difference to your complexion.  The laser itself is virtually painless, despite the impressive results.  There is absolutely zero downtime, you'll be ready to go about the rest of your day as soon as your treatment is done. 
More About Carbon Laser Facial
Our Carbon Laser facial is a treatment using the cutting edge Spectra laser from Lutronic.  We combine the finely tuned ultra-short pulse laser treatment with a carbon mask peel that removes impurities from the skin. It clears the dead skin cells that make your skin look tired and brings the fresh newer cells underneath to the surface, leaving you with a natural glow. All the while, the carbon peel, and laser are cleaning and tightening your pores, making it look and feel younger and smoother. 

Some specific issues this type of treatment targets are oily skin, blackheads, enlarged pores, fine lines and wrinkles, dull skin, and acne on the face and body. With this powerful laser, we can also reduce skin pigmentation, stimulate collagen production, and lighten and brighten your complexion.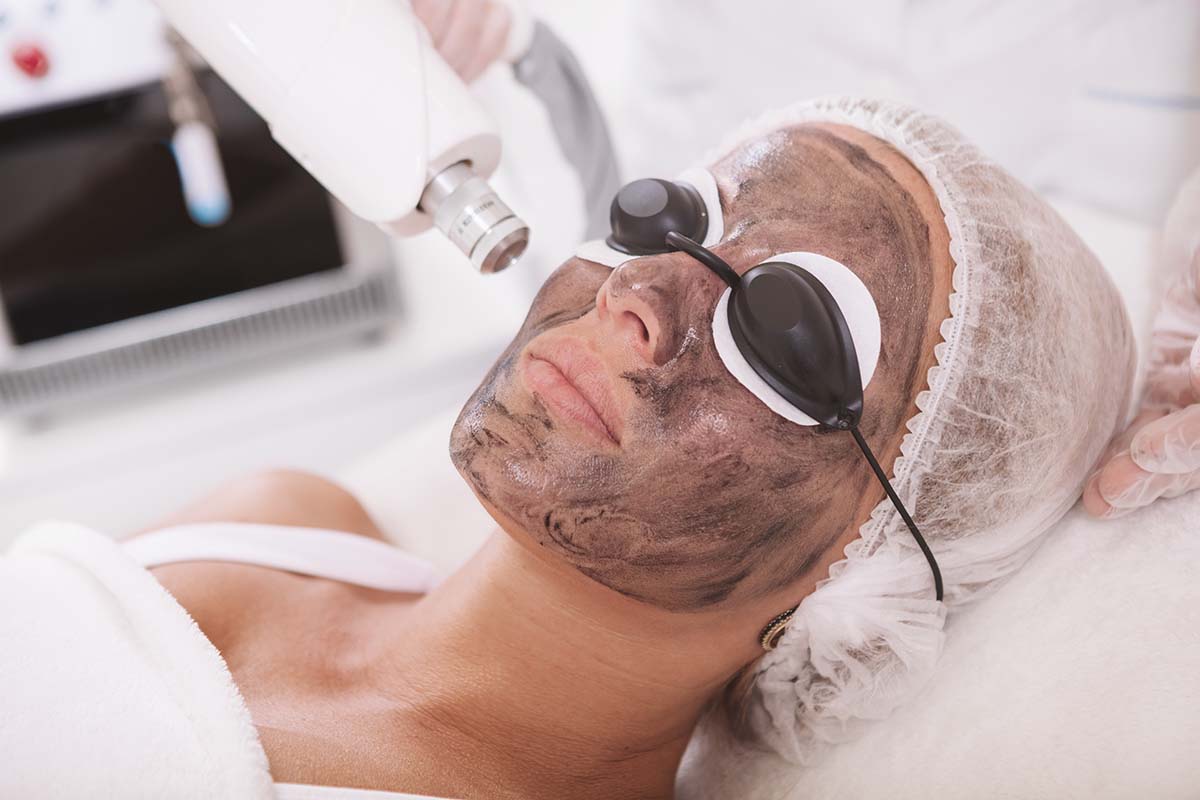 safety considerations
The Spectra laser system is extremely gentle and finely tuned to your skin using its automatic analysis functions.  This makes it incredibly safe with very little or no downtime.  Most of our clients feel no need to rest or recover at all and go about the rest of their day normally.  For some with exceptionally sensitive skin, there may be a sensation similar to a very mild sunburn.  As usual, we suggest you make sure to use sunscreen for a few days on the treated area, just to make absolutely sure that your skin heals completely and quickly.
Maximizing Results
The powerful carbon-based spectra moisturizer will absorb pigmentation and impurities as the laser breaks them down. However, to get the best absorption of impurities it is beneficial to use a surface-level cleanser or scrub to make sure that the carbon peel is able to absorb the most deep-seated dirt that's harder to get at.

You can take advantage of this exciting new technology for just $349 per treatment.  If you schedule 3 or more of these treatments at once, you can also benefit from our 15% discount.
Why Carbon Laser Facials?
This highly requested procedure instantly creates a radiant, glowing appearance without downtime or significant pain.  It's one of our fastest and most powerful cosmetic surgery alternatives!
What are the benefits of a Carbon Laser Peel?
There are quite a few benefits to the Carbon Laser Peel, most notably: better skin tone and texture; glowing, younger-looking skin; smoother-feeling skin; a reduction in fine lines; stimulation of collagen production.
What is Hollywood Spectra?
The cutting-edge Lutronic Hollywood Spectra is an advanced aesthetic laser system using ultra-short pulse 1064/532nm lasers to reduce unwanted skin pigmentation and stimulate collagen production. The system is intelligent and user-friendly, enabling our practitioners to lighten and brighten your complexion.
What are the Key Benefits?
In general, the Carbon Laser Facial revitalizes and maintains a youthful appearance. Here are the most important specific benefits of the Carbon Laser Facial treatment: it exfoliates your skin, reduces unwanted pigmentation, helps to stimulate collagen, and softens your skin tone and texture of your skin.  All that and it's a safe and comfortable treatment, too!