About Meg & Co.
Meg & Co. is a medical aesthetics spa based in Falmouth, Maine specializing in Botox & Dysport injections, Fillers, laser skin care (skin resurfacing, hair removal, tattoo removal), Radio Frequency microneedling, medical-grade facials (HydraFacial, Carbon Laser facial), body contouring, hair restoration, lashes and brows. We use the newest and most advanced technology on the market for all our services. At Meg & Co you can find state of the art aesthetic lasers that are not offered anywhere else in the state of Maine so you know you are receiving the most effective treatments available.
Meg & Co. was established because of our passion for helping people feel better about themselves, comfortable in their own skin, and not be weighed down by the little imperfections that don't go away on their own. We believe everyone deserves to feel great about how they look, and the best way we know to do that is to provide safe and effective aesthetic treatments.
More About Meg & Co.
Meg & Co. was founded by Megan Sotiropoulos (then Megan Biermann) RN, BSN in 2019 because of her fervent passion for helping people to feel more confident in their own skin. Megan left working at Maine Medical Center as a Registered Nurse to pursue the medical aesthetic field of nursing after receiving extensive training from Aesthetic Medical Educators in Boston, MA in 2019.  Armed with ongoing education and the latest in medically sound aesthetic medical technology, Megan has been helping people to look and feel their best ever since with exquisite attention to detail and an obsession with client satisfaction.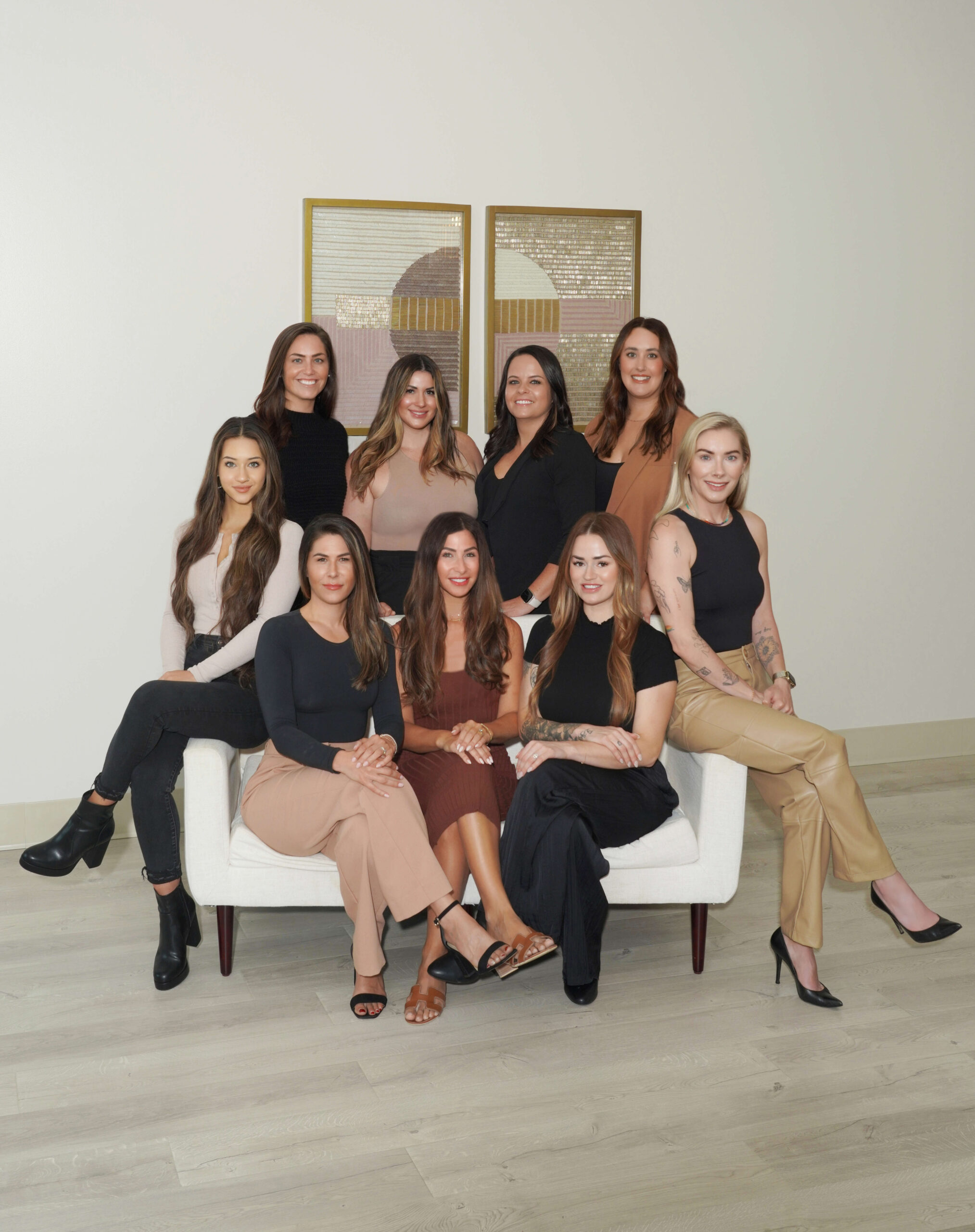 The Meg & CO. Experience
If you are dealing with skin issues such as acne and subsequent scarring, skin discoloration/hyperpigmentation, sun damage, or scarring from an injury/surgery, you already understand just how impactful such a condition can be to your self-confidence. At Meg & Co., we have the technology and expertise to correct these skin conditions with a variety of safe and powerful aesthetic treatments for your skin. We also offer a wide range of hair services, including laser hair removal and hair restoration.
We look forward to helping you to achieve all of your beauty goals with treatments that focus on lasting results that you can rely on. Learn more about our wide range of services below.
Read More
AccuFit Body Sculpting is the first and only non-invasive body contouring procedure that provides simultaneous fat-melting, skin tightening, and muscle building in a 30-minute session. An average of 30% fat reduction and 25% growth in muscle volume with only 4 treatment sessions.  This procedure targets your abdomen, buttocks, biceps, triceps, thighs, and calves.
Read More
Botox is an FDA-approved treatment that offers a very fast yet temporary reduction in the appearance of facial lines and wrinkles. Botox is delivered via injections with a very fine needle. Botox targets forehead lines, frown lines, crow's feet, lip flip, TMJ treatment for jaw clenching and grinding, jawline slimming, brow lift, "gummy" smile, "bunny" lines, reduces sebum production and helps even skin tone.
Read More
You can book Botox parties through Meg & Co. in the comfort of your own home or business for "group setting" injections. This is a great way to save a little money and have a great experience with friends and family, taking control of your skin together. These parties will be conducted by our lead injector, Meg. Contact us today to schedule your Botox party!
Brow lamination, Tinting & Shaping
Read More
These closely related long-term eyebrow treatments go beyond what you can do at home to make your brows stand out in the crowd.  Feel more confident and look your very best with these easy, long-lasting brow treatments.
Read More
Carbon Laser Facial is a painless, zero-downtime highly requested procedure that instantly creates a radiant, glowing appearance. This treatment combines cleansing, exfoliation, increased collagen production, extraction, and hydration.  It clears dead skin cells, while cleaning and tightening pores.  This treatment targets oily skin, blackheads, enlarged pores, fine lines and wrinkles, dull skin, and acne on the face and body.

Read More
Rejuvenate your skin with tailored chemical peel treatments at Meg & Co. Combat aging, acne, and uneven tone—Expert Medical Aestheticians in Portland, ME
Read More
Dermal Fillers are a treatment used to reduce facial lines and increase the fullness of your face. As we age, we naturally lose subcutaneous fat over time, making our faces look less full. As a result, facial muscles are closer to the skin's surface, and smile lines and fine lines become visible. Dermal fillers solve this issue by plumping up the appearance of the face, making fine lines and wrinkles disappear!
Read More
Dermaplaning is a deep exfoliation process that involves using a scalpel-like blade that removes the top layer of your skin, including dirt, "peach fuzz," and dead skin cells. It tricks the skin into thinking it is wounded and boosts collagen production, helping decrease fine lines and wrinkles. In addition, it improves the overall complexion (tone & texture) of your skin. This is a very safe and effective aesthetic treatment and a great introduction to our services.
Read More
Have you ever wanted longer, fuller lashes? Mascara can make eyelashes look thicker, but you can actually increase the length and the number of lashes you have with extensions! Get the perfect lashes only movie stars and cover models have with eyelash extensions.
Read More
Eyelash lifts & tints give you mascara results without the hassle of applying, managing, and removing makeup.  This means whether you're at the office, the gym, a wedding, or just woke up, you'll have the luscious lashes you want without the running, smudging, or inconvenience.
GENIUS Radio Frequency MICRONEEDLING
Read More
Genius Radio Frequency Microneedling greatly improves the elasticity (collagen & elastin production) of your skin with a fully customized treatment that's tailored to your unique skin using radiofrequency (heat) as energy. You will see a dramatic improvement in the appearance of your skin as this process stimulates the regeneration of collagen and elastin that naturally decrease with age, acting as a non-surgical face and body lift.
The Genius treats stretch marks, deep scarring, deep lines and wrinkles, cellulite, under-eye bags, "turkey" neck, jowl tightening, sagging skin, non-surgical eyelid lift (blepharoplasty), underarm sweating (hyperhidrosis). Acts as an "energy-based filler" to remove nasolabial folds and marionette lines.
Read More
The patented Hydrafacial Syndeo system gently but powerfully cleanses your pores with suction, then adds powerful nutrients to your skin to give you the healthy glow you're looking for.
Keralase Hair Restoration
Read More
Keralase Hair Restoration utilizes the LaseMD Ultra in combination with Kerafactor for hair restoration. Using this method for hair growth and restoration is preferred over PRP because Kerafactor 100% contains all growth factors for hair regrowth, while PRP could potentially have the one growth factor that inhibits hair production (TGF-b1). This takes out the guessing game in knowing what growth factors are in each individual's specific blood, delivering the best results possible in non-surgical hair restoration.
LaseMD Ultra Skin Resurfacing Laser
Read More
LaseMD Ultra laser skin treatments are used to reduce pigmentation, wrinkles, and blemishes in the skin. LaseMD Ultra treatments are extremely safe and tunable from mild to aggressive treatments, leading to dramatic results from just one session. The Lutronic ULTRA™ treats mild to moderate lines and wrinkles, hyperpigmentation, sun damage, melasma, shrinks pore size, skin tone/texture irregularities, active acne, rosacea, mild to moderate scarring, and promotes collagen production. This amazing device also works in combination with Kerafactor for hair restoration services!
Read More
Clarity II Laser Hair Removal allows you to permanently remove hair from your body in just 6 to 10 sessions.  It's the quickest and least painful laser hair removal system on the market. It's effective all over your body, but is most often used for the face, chin, legs, bikini line, arms, back, and underarm. Treatments are safe, fast, and very precise, allowing very fine control of your results. Not only is the Clarity II the latest in hair removal technology, but it is also used to treat vascularity conditions such as spider veins found on your face or body, angiomas, and more! 
Read More
Laser Tattoo Removal: We use the newest tattoo removal laser on the market, the Lutronic Spectra will remove your tattoo in about half the number of sessions typically needed for tattoo removal.

Read More
Want to wake up with perfect eyebrows? You might need permanent makeup, also known as microblading.  This semi-permanent technique can keep your brows on fleek without ever needing a touchup.
Read More
SCULPTRA® is a FDA-approved poly-L-lactic acid injectable that helps gradually restore facial volume. Sculptra works by addressing the underlying cause of aging skin from loss of collagen
Read More
The Clarity II laser is one of the best-tuned lasers for eliminating unsightly vascular issues like spider veins and rosacea permanently.  Never worry about these unsightly blemishes again!
Book Now
We make it easy to book your appointment and have years of experience helping people just like you to look their best.  No matter what service you're looking for, rest assured that we have the training, certifications, and experience to make sure you have fantastic results.