What Are Scars and What Causes Them?
Scars are a natural part of the body's healing process. Scarring can occur from accidents, surgeries, and skin conditions like acne. Scars form when the dermis (deep layer of skin) is damaged. Your body then reacts by producing collagen to heal the injured tissue. The new tissue that is formed in the healing process will look different than the original tissue, resulting in a scar. A scar will form after the wound is completely healed.
More About Scars
There are different types of scars that can form. Many are flat and pale in appearance, but when the body produces too much collagen in the healing process, scars can be raised. Scars can also have a sunken, pitted appearance. This type of scar often occurs when fat or muscle is lost or when your body doesn't produce enough collagen. 
Although scars can fade to an extent naturally for a period of up to two years, they are permanent and will require treatment to reduce or remove. 
Stretch Marks 
Stretch marks are a type of scar that forms when your skin stretches or shrinks abruptly, such as during pregnancy or a growth spurt. The quick change causes the collagen and elastin in that area of the skin to rupture. When the skin heals, stretch marks may form. Stretch marks are not painful or harmful, but many people are bothered by the look of them on their bodies.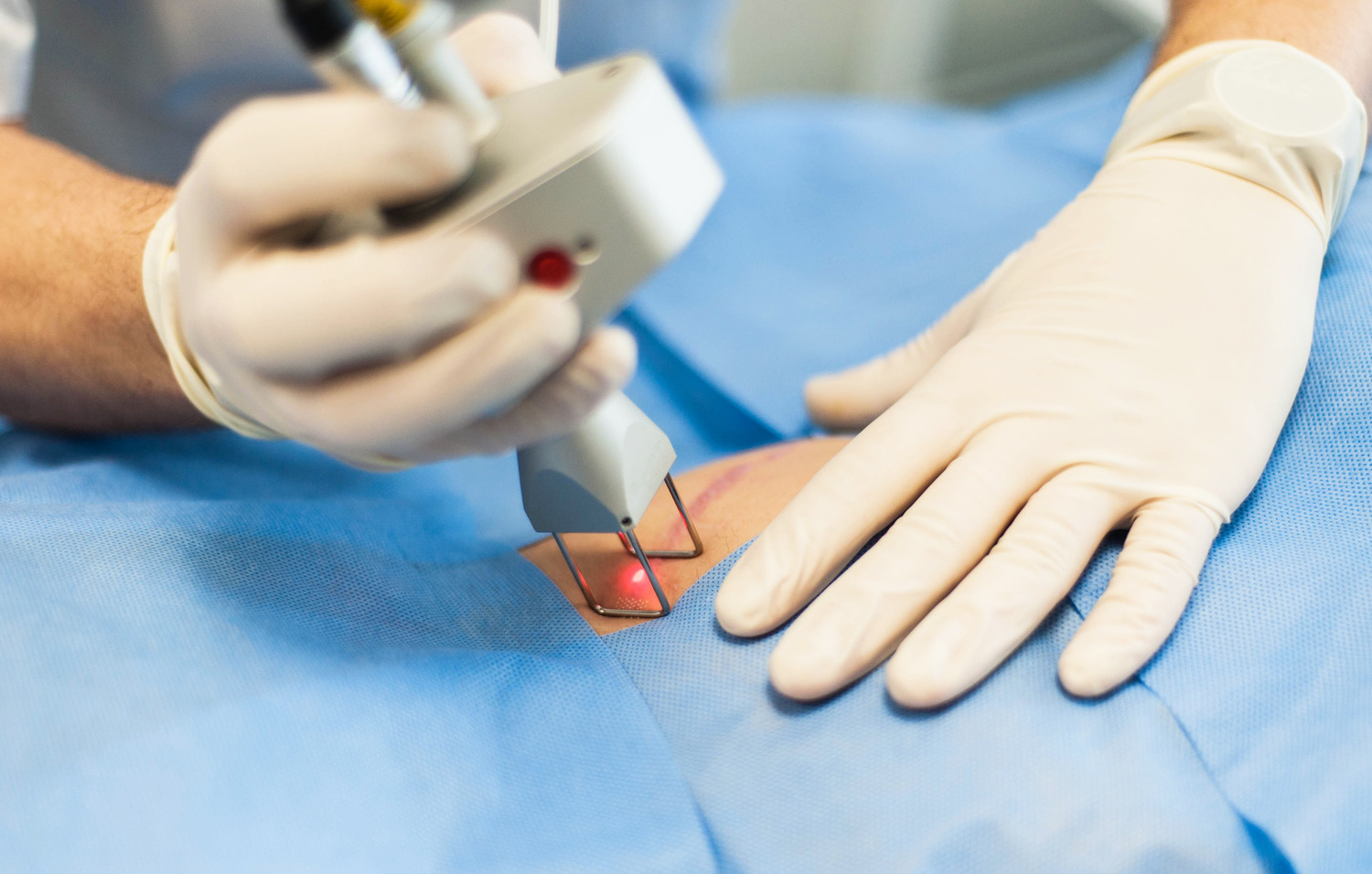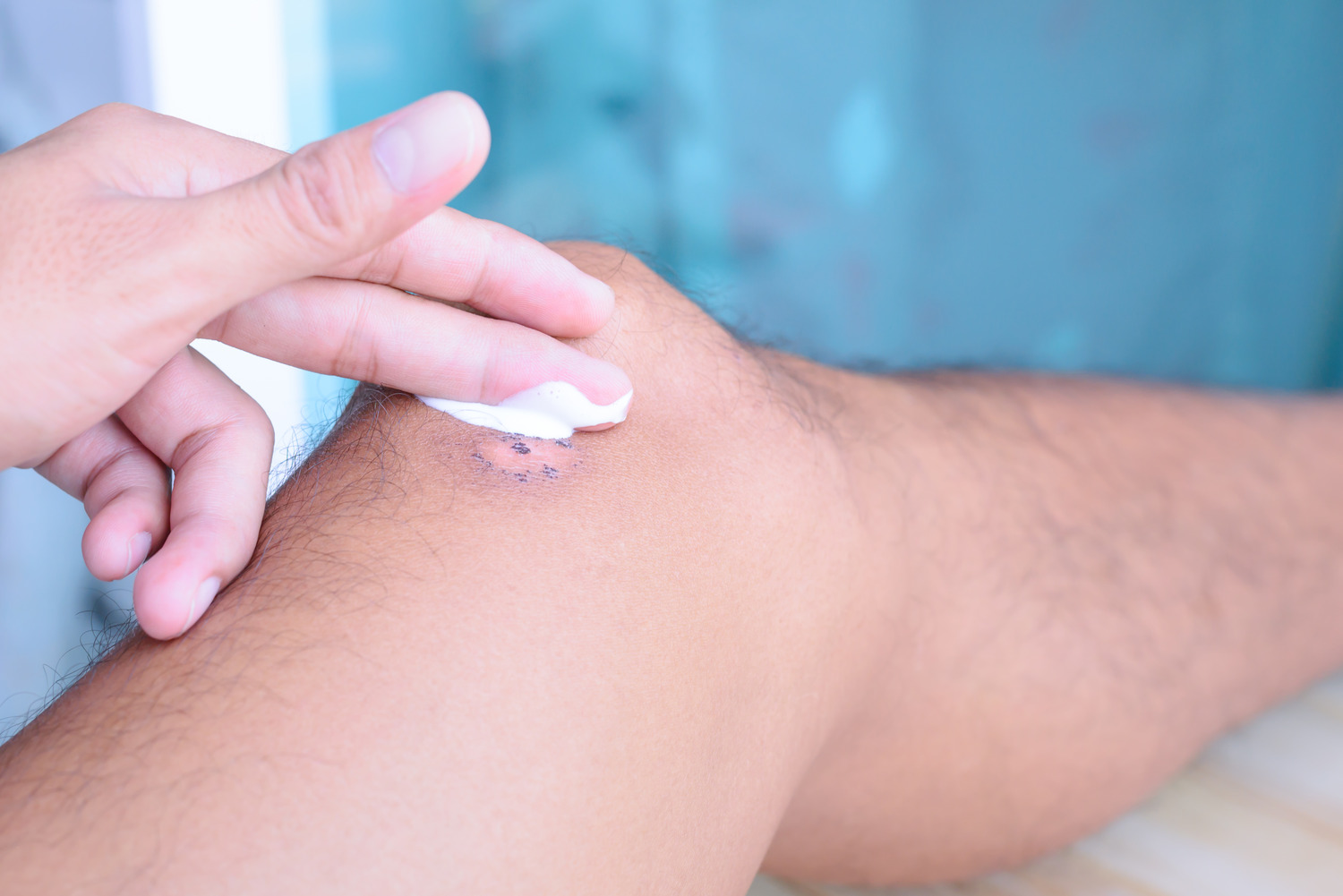 Treatments Available At
Meg & Co.
Genius RF Microneedling
Genius RF Microneedling is an advanced skin rejuvenation treatment that combines the benefits of microneedling with the power of radiofrequency energy. The treatment works by creating tiny micro-injuries in the skin, which triggers the body's natural healing process. As the skin heals, it produces new collagen and elastin, which helps to improve the appearance of scars.
 The addition of radiofrequency energy to the treatment enhances the results by promoting skin tightening and rejuvenation. The heat generated by the radiofrequency energy stimulates the production of collagen, which helps to plump the skin and reduce the appearance of scars. The result is smoother, more youthful-looking skin with significantly reduced scarring.
LaseMD Ultra Skin Resurfacing Laser
Our advanced LaseMD Ultra treatments drastically reduce and even eliminate both scarring and stretchmarks. We recommend combining thrasher resurfacing with Genius RF Microneedling for maximum results, as both treatments work by stimulating your skin cells in different ways.
Safety Considerations
Genius RF Microneedling: This treatment can be used on all skin types and skin tones. Microneedling is safe for people who are not pregnant, breastfeeding, or suffering from an active skin infection. If you have taken or are taking Accutane, are undergoing chemotherapy, or have a compromised immune system, microneedling is not for you. Contact Meg & Co. to discuss what scar treatment options will fit your needs.

LaseMD Ultra: If you're already prone to acne or another facial skin problem, a resurfacing laser may trigger a flare-up. Consult with your dermatologist before trying a resurfacing laser if you're prone to acne or facial skin problems.
Maximizing Results
Be sure to protect your skin for several days after treatment with sunscreen, and avoid wearing makeup for at least 24 hours after treatment to allow your skin to recover. Genius RF Microneedling and LaseMD Ultra will need an initial session followed by maintenance sessions to achieve the best results.
What should I expect during scar my scar removal treatments?
Genius RF Microneedling: During a Genius RF Microneedling treatment, your technician will cleanse your skin and apply a topical anesthetic to make you more comfortable. During the treatment, they will stamp your skin with the handheld device. Each stamp into the skin pauses long enough to allow the needles to transmit heat into the lower dermal layer. Depending on the area of the face or body, your technician will make two or three passes. Treatments can be as short as 15 minutes and will rarely exceed 45 minutes. 
LaseMD Ultra: Your experience depends on the intensity of the wavelength used to address your skin concerns. As the laser passes over your skin, you may feel a warm, tingling sensation. The intensity of the sensation varies. Your comfort and safety are our top priorities.
How long is the recovery process after a Genius RF Microneedling or LaseMD Ultra treatment?
Genius RF Microneedling: While it only takes about 24 hours for most of your recovery, with most pain and swelling subsiding during this time, it may take longer to recover completely. With proper skin care, full recovery can take about 2 weeks. If you have a weaker immune system or another health issue, it can take up to 6 weeks to completely recover from microneedling treatment, though this is not typical. 
LaseMD Ultra:  LaseMD Ultra is a skin revitalization treatment that can be performed during your lunch hour; you can return to work immediately. Significant results are seen after about 10 days and gradually continue to improve over the course of 12 weeks.
How many scar removal treatments will I need?
Typically, we recommend 3 treatments 6 to 8 weeks apart for Genius RF microneedling, 3 treatments 3-5 weeks apart for LaseMD, and 4-6 treatments spaced several weeks apart for Carbon Laser Facial. However, everyone's skin is different, and our expert clientele at Meg & Co. are happy to discuss a treatment plan unique to your needs!