What is laser tattoo removal and What Does it Do?
Laser tattoo removal is a process of removing deeply inserted pigments from your skin using a laser to scatter the ink so your body can get rid of it.  If you've had a tattoo for a long time, you know that it fades gradually, this is because your body naturally breaks down the ink very slowly over time.  What our laser system does is heat up the ink to disperse it more widely.  By diffusing the ink in this way, your body becomes better able to quickly process and remove the ink naturally.
More About Laser Tattoo Removal
We all know that tattoos are meant to be permanent.  This is achieved because tattoo ink is trapped in the deepest layers of the skin. When your tattoo was applied, ink was inserted into varying depths of your skin tissue with a needle.  Laser removal is based on the same principles as many of our other aesthetic laser treatments: gently heating the subcutaneous layers of your skin to achieve results.  Our powerful Spectra system is able to do this faster and for more layers of your skin at one time than older generations of medical-grade laser technology used by other aesthetic laser providers in the greater Portland, ME area.
Because of how laser tattoo removal works, it takes several treatments to work through all the ink in the deep layers of your skin.  The laser breaks down the layers nearest the surface first, which your body then needs to clear up in order to get access to the lower levels.  However, our Lutronic Spectra system is able to diffuse more layers of ink than older generations of lasers for tattoo removal.  If a tattoo is particularly dark or bold, it will require more treatments to remove the ink compared to shaded tattoos with a lower density of ink.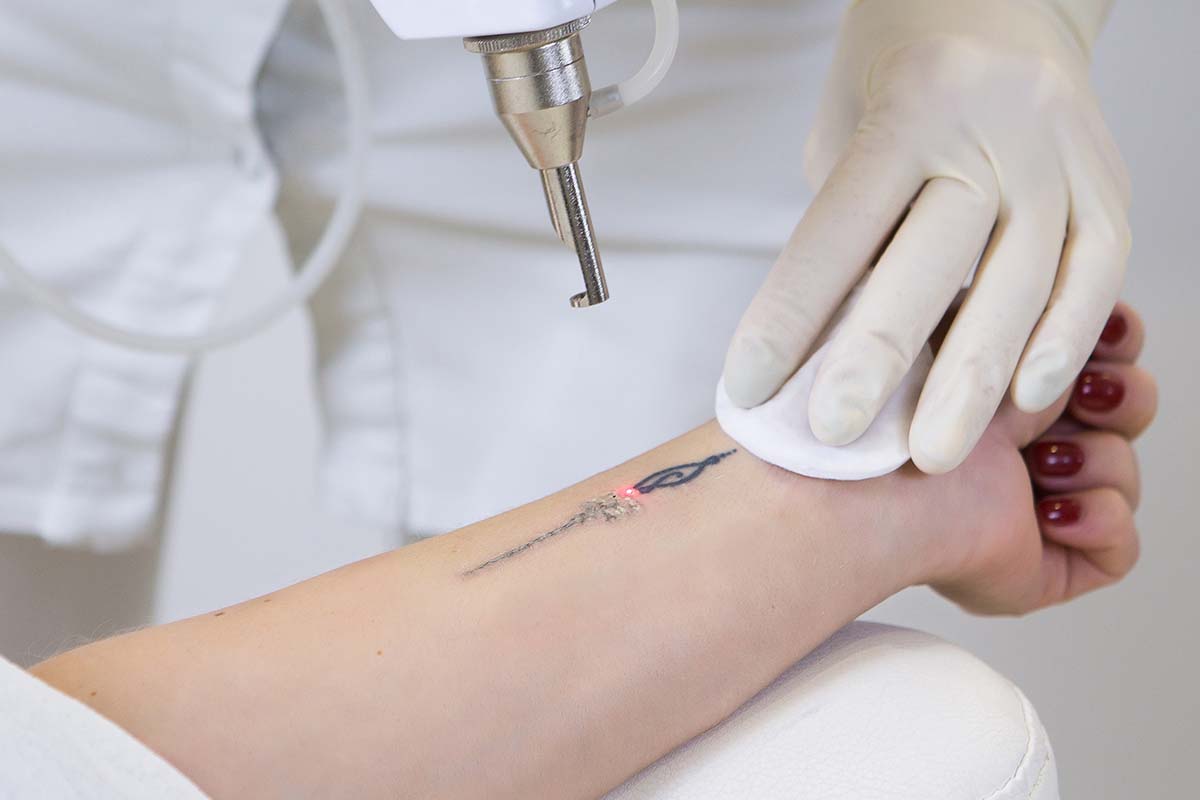 Maximizing Results
Our Spectra system is one of the most advanced aesthetic laser platforms on the market and gets results faster than any other.  In fact, you can expect results in literally half the number of treatments that other systems require.  The exact number of treatments you need depends on a range of factors: the age of the tattoo, the kind and color of ink used, and your skin type.

To make sure you get the best results possible as quickly as possible, make sure that the treated area has been cleansed and isn't covered with any cosmetics.  Between your appointments make sure your skin remains moisturized and that you lightly massage the skin, which helps to disperse the broken down ink in the skin and speeds its removal by the body.
safety considerations
Though Laser Tattoo Removal is very safe, there are a few things you should keep in mind. Your skin will experience some stress from the treatment, so you should protect the affected area for about a week after each treatment with either with clothing that can block sunlight or high SPF sunscreen, to make sure the skin stays healthy.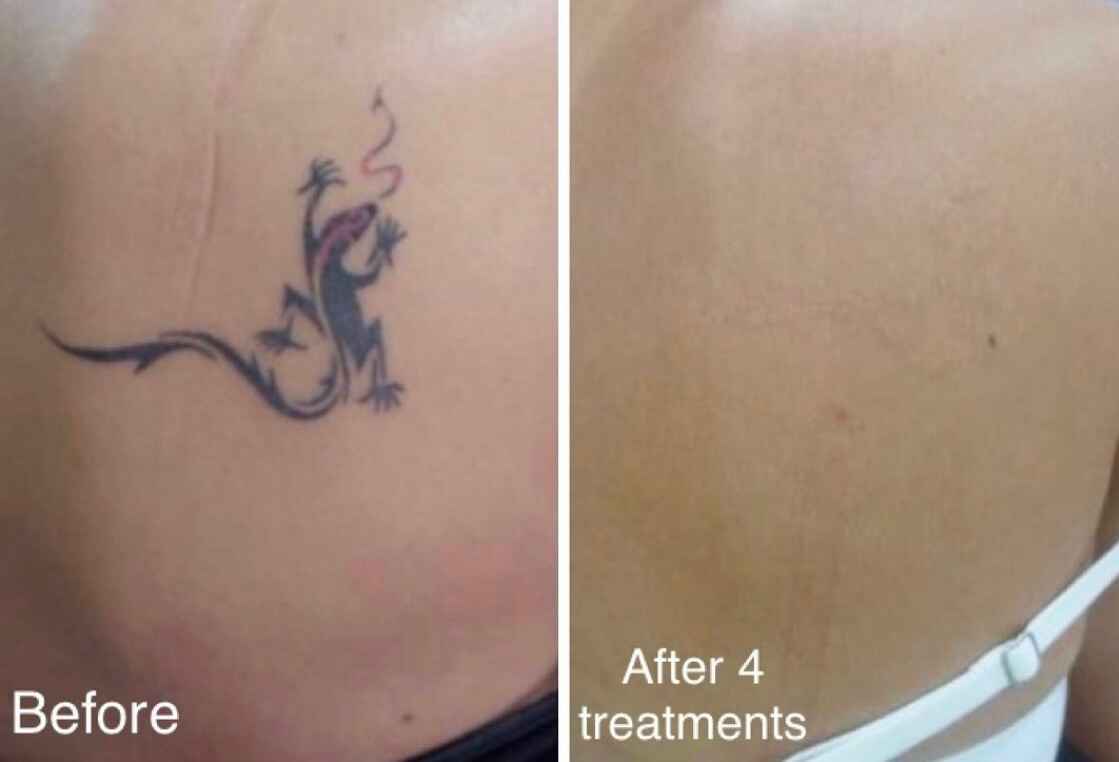 Up to 4 square inches (ex: 2″ x 2″): $149
4 – 16 square inches (ex: 2″ x 2″ – 4″ x 4″): $199
16 – 36 square inches (ex: 4″ x 4″ – 6″ x 6″): $249
36 – 64 square inches (ex: 6″ x 6″ – 8″ x 8″): $299
How Many Treatments Do I need?
This depends on several factors, the color of ink, age of the tattoo, its color, etc. can affect how many treatments it takes.  That said, our Spectra system takes about half the number of sessions as other non-ablative medical lasers.  On average, you'll see major results after just a few sessions, requiring form 3 to 6 sessions to completely remove, depending on the above factors.
How much will my treatments cost?
Pricing:
Up to 4 square inches (ex: 2″ x 2″): $149
4 – 16 square inches (ex: 2″ x 2″ – 4″ x 4″): $199
16 – 36 square inches (ex: 4″ x 4″ – 6″ x 6″): $249
36 – 64 square inches (ex: 6″ x 6″ – 8″ x 8″): $299
Using the newest tattoo removal laser on the market, the Lutronic Spectra will remove your tattoo in half the amount of sessions typically needed for tattoo removal. 
What makes the Lutronic Spectra Laser special?
The Lutronic Spectra uses ultra-short pulse 1064/532nm laser output to stimulate your subcutaneous skin tissue and energize your collagen production as well as break up your tattoo.  This makes the treatment not only effective for eliminating your unwanted tattoo faster than the competition but also improves the appearance of your skin.