What is Hair Loss, and What Causes it?
People typically lose 50-100 hairs from their heads per day. If you're losing an excessive amount of hair each day, you could be suffering from hair loss. Hair loss is typically caused by one of the following factors:
Hereditary
The most common reason for hair loss is a hereditary condition that occurs with aging. This usually happens gradually and in a predictable pattern. Hereditary hair loss usually looks like a receding hairline, bald spots in men, and thinning hair along the scalp in women.
Hormonal Changes
Many conditions can cause hormonal hair loss, such as changes due to pregnancy, childbirth, menopause, birth control, and thyroid problems. This hair loss can be temporary or permanent.
Medications
Certain medications can cause hair loss, such as medications used for cancer, depression, arthritis, heart problems, and high blood pressure.
Stress
Many people experience hair loss and thinning after a high-stress event. This type of hair loss is usually temporary.
Hairstyles and Treatments
Excessive hairstyling or hairstyles that pull your hair tight can cause a type of hair loss called traction alopecia. Hot oil and chemical treatments can also result in hair loss.
Hair Thinning
While hair thinning and hair loss are similar to each other, their problems are different. Hair thinning is usually caused by hormone changes or is genetic. During hair thinning, your hair growth becomes thinner, more brittle, and falls out faster. Hair loss is spread out through the scalp, not just in one area or in patches.
Baldness
Baldness, also known as alopecia, is the absence of hair. Baldness is usually most noticeable on the scalp but can occur anywhere hair grows on the body. Baldness is usually caused by aging, a family history of baldness, changes in hormones, and illness. Male-pattern baldness is usually inherited and can start at any age.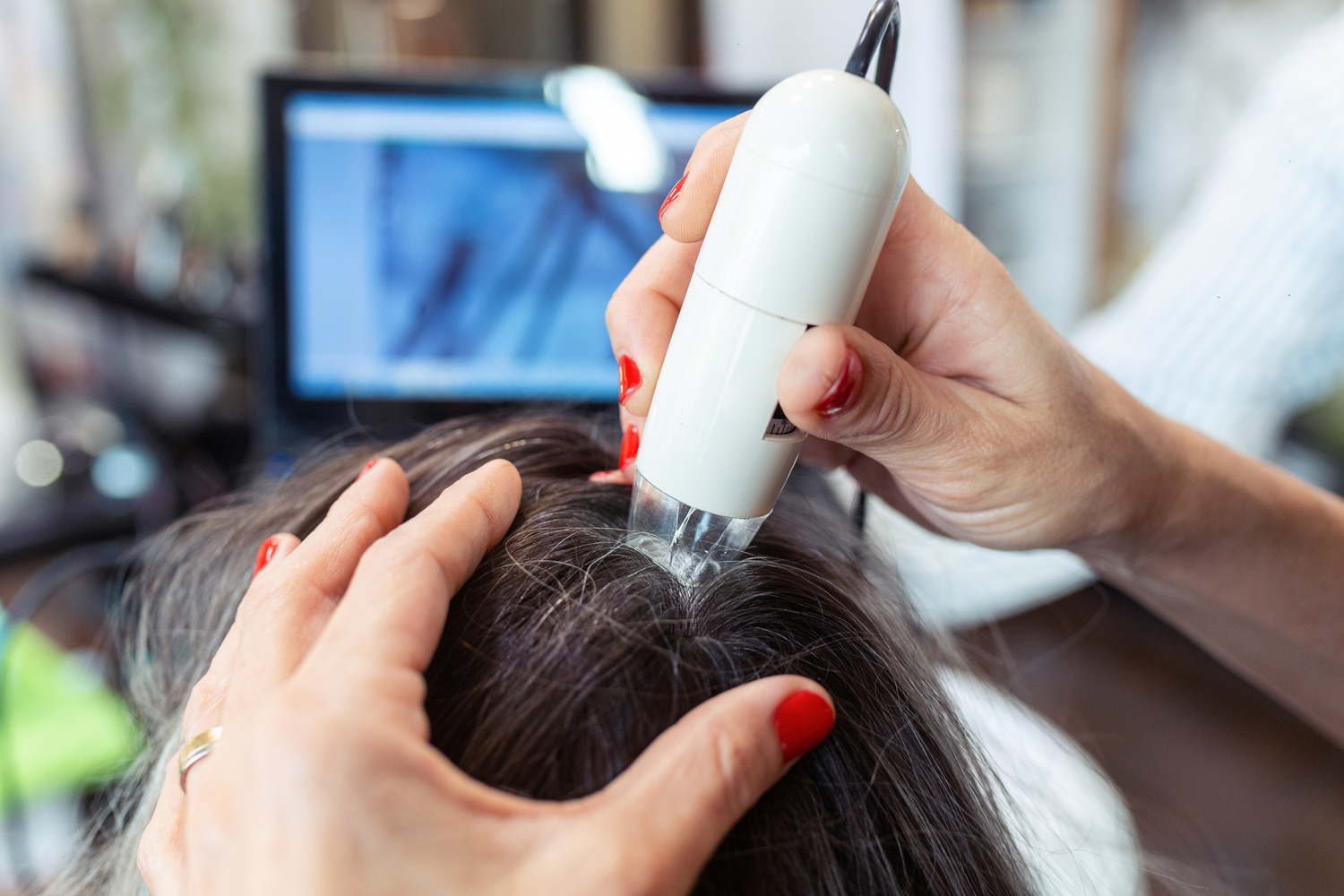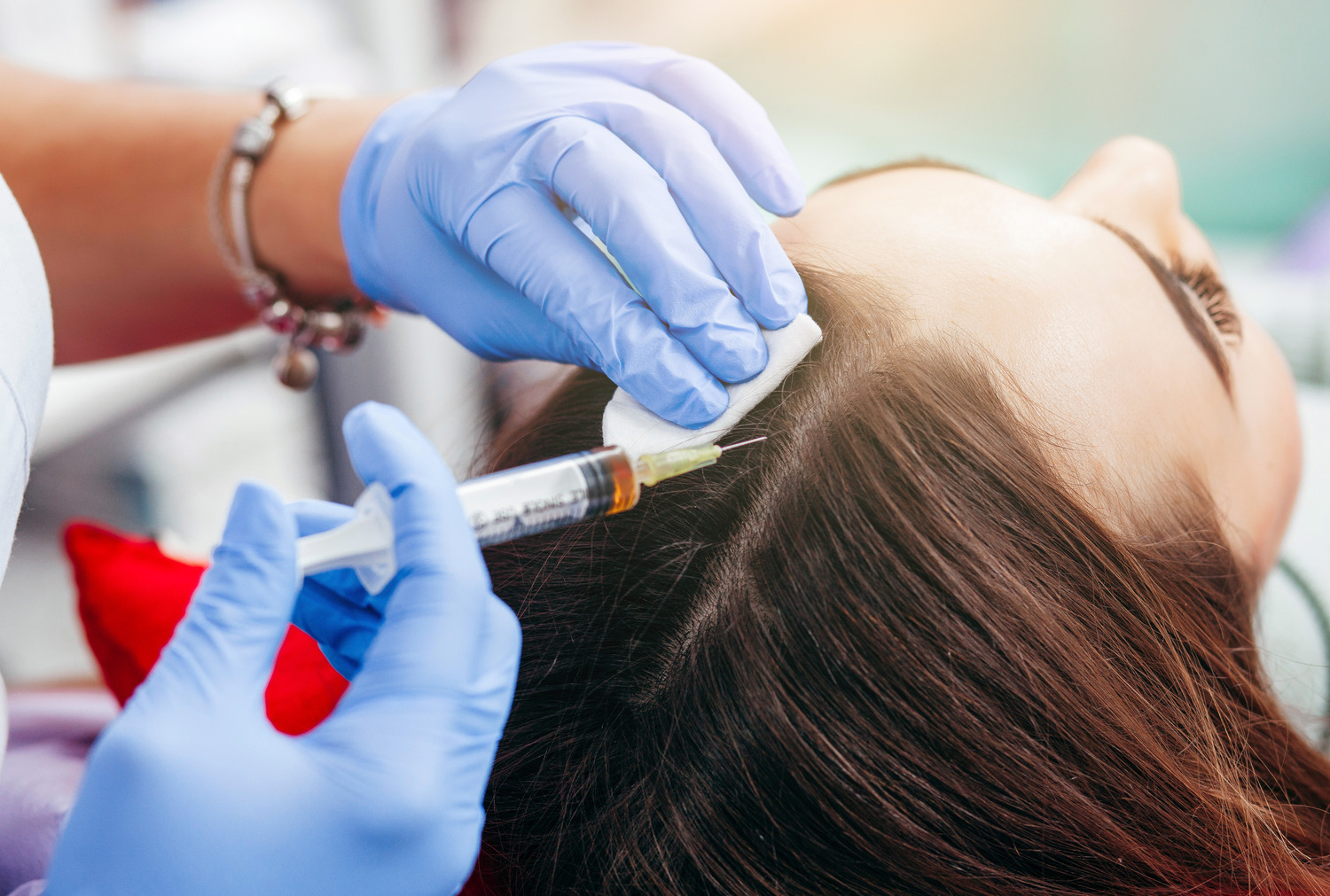 Treatments Available At
Meg & Co.
Keralase Hair Restoration
Feeling defeated and unconfident due to hair loss or thinning? The Keralase Hair Restoration treatment at Meg & Co. can help you regrow thicker, fuller, and healthier hair! This hair restoration treatment uses an aesthetic medicine laser treatment combined with kerafactor serum to stimulate and facilitate hair growth! Learn more about the Keralase Hair Restoration treatment here.
Safety Considerations
Most clients will experience a mild, uncomfortable reaction to the laser treatment, similar to a mild sunburn.  This can be managed with cold compresses and shouldn't last more than a couple of hours. Please leave at least two weeks between your treatments to make sure your skin has plenty of time to recover fully and to make sure your hair follicles have had enough time to make use of the previous treatment's KeraFactor formula.
Maximizing Results
This treatment should be performed once every 2 weeks with 6 treatments for best results. Our patients typically see very noticeable improvements to the fullness and thickness of their hair once the full course of treatments has been finished after 12 weeks.  In some cases, in the earliest stages of hair loss, or with very mild cases, fewer treatments may be adequate, so be sure to consult with your technician before you schedule your full course.
Is Keralase Hair Restoration safe?
Unlike harsher, more artificial treatments, KeraLase uses the same compounds your body naturally uses to stimulate hair growth, making it very safe and very effective.
What types of hair loss will Keralase Hair Restoration treat?
Keralase treatments are perfect for anyone experiencing hair loss. Keralase is proven to be effective in restoring hair loss caused by androgenic alopecia (male and female pattern baldness), the most common type of hair loss. Other types of hair loss it can treat include traction alopecia, telogen effluvium, and hair loss due to hormone changes and some medical conditions.
How long will the treatment take?
Depending on your specific treatment plan and the extent of your thinning or balding hair loss, your KeraLase treatments take approximately 20 to 30 minutes to complete.